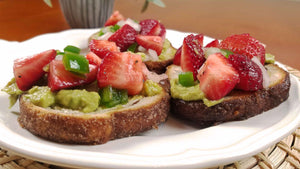 Is it Cinco De Mayo yet? All though we love 7-layer dip here at the bakery, we wanted to incorporate our bread into festivities. So we decided to make salsa specifically to our top cinnamon swirl bread. The results? Muy Bueno.
Ingredients

8 Slices Jenny Lee Cinnamon Swirl Bread
4 Cups of Fresh Strawberries, Diced
2 Jalapeños, Diced
8 Tablespoons Red Onion, Diced
8 Tablespoons Cilantro, Diced
Juice from 1 Lime
2 Avocados, Mashed
Salt and Pepper, to taste 
 Serves 8

Directions
 Combine strawberries, jalapeño, red onion, cilantro, lime, salt, and pepper in a large bowl.  Stir to combine. 
 Lightly Toast Jenny Lee Cinnamon Swirl Bread and spread mashed avocado on each slice.  Top with strawberry salsa.