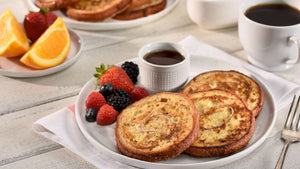 Try this delectable breakfast with each flavor of our sweet cinnamon swirl bread for an awesome experience each time.  Perfect for a jump-start to any day or a lazy brunch with friends and family.  We promise that once you try this, you'll never make French Toast without our bread again.
Ingredients
12 Slices of Jenny Lee Swirl Bread
4 Medium Eggs
1 cup of Cold Milk
1 Teaspoon of Cinnamon
1/2 Teaspoon of Ground Nutmeg
2 Teaspoons of Vanilla Extract
1 Pinch of Salt
Powdered Sugar
Directions
1. Beat together eggs, milk, salt, spices, and vanilla.  Let bread sit open on a plate while mixing ingredients. 
2. Lightly oil a griddle (or skillet) and preheat to medium-high.
3. Dunk each slice of bread in egg mixture being sure to soak each side. 
4. Place on heated griddle and cook both sides until golden brown. 
5. Sprinkle on powdered sugar and garnish with fresh fruit.  Serve with maple syrup.