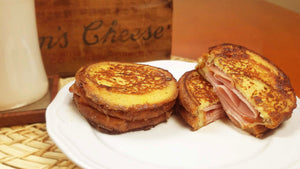 If you like our French Toast, you're going to LOVE our version of the Monte Cristo! It's the perfect brunch sandwich combining sweet and savory in the best possible way.
Ingredients

12 Slices of Jenny Lee Swirl Bread
6 Slices of Smoked Gouda
6 Slices of Maple Cured Ham
Maple Syrup
 French Toast Batter
4 Medium Eggs

1 cup cold milk

1 Teaspoon Cinnamon

1/2 Teaspoon Ground Nutmeg

2 Teaspoons Vanilla Extract

1 Pinch Salt
Serves 6
Directions

  Heat griddle (or skillet) to 350°F and spray with non-stick spray or oil. 
Combine French Toast Batter ingredients in a large bowl.  Stir to combine. 
Assemble sandwiches with Jenny Lee Swirl Bread, Gouda, and Ham.  Press each sandwich between two plates. 
Dip the entire sandwich in French Toast Batter and place it on the skillet.  Cook each side for 5 minutes or until the bread is golden brown and sugar around the bread is bubbling. 
Serve with maple syrup dipping sauce or drizzle syrup over the top of sandwiches.