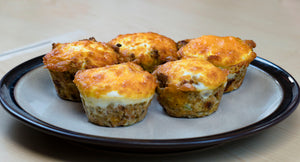 The winner from our February recipe contest is the recipe for these delicious stuffing muffins.  Some out-of-the-box thinking weighed heavily in our decision.  The chef, Karey VandeWater, recommends serving at brunch and tailgates.  We recommend serving them for every meal!
Ingredients

 

1 Loaf Jenny Lee Savory Bread, Cubed and Dried Overnight

4 Tbsp Butter

1/8 Cup Diced Onion

1/8 Cup Diced Celery

4 Tbsp Diced Sundried Tomato

Small Pinch of Dried Thyme

Salt and Pepper to Taste

1/2 cup Chicken Broth

2 Eggs, Scrambled

 12 Medium Eggs

1/2 Cup Shredded Sharp Cheddar Cheese

Crumbled Cooked Bacon
Directions
Place the Jenny Lee Savory Bread in a food processor and blend in 10-15 pulses until bread is in small crumbles (largest pieces will be about 1/2 inch thick).  Place crumbles in a large bowl.  In a saucepan, melt butter and add onion and celery.  Saute until soft.  Add sundried tomato, thyme, salt, pepper, chicken broth, and scrambled egg.  Mix well until bread is evenly coated and slightly sticky.
Preheat oven to 400 degrees.  Grease muffin tin and press about 1/4 cup stuffing into the bottom and up the sides of each muffin cup.  Break 1 egg into the center of each muffin cup and top with shredded cheddar and bacon.  Bake for 15-17 minutes or until white is set.  Cool 5 minutes before serving.