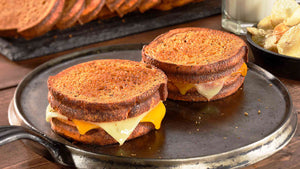 Is there anything better than melted cheese between two slices of buttered and toasted bread?  Why yes, yes there is.  Substitute that bland, tasteless white bread in favor of Jenny Lee California Tomato Basil, and take your grilled cheese to the level it has always deserved to be on.  Download the recipe card.
Ingredients
4 Slices of Jenny Lee Tomato Basil Savory Bread

2 Slices of Yellow American Cheese

2 Slices of White American Cheese

Softened, Salted Butter

 
Directions
Heat griddle (or skillet) to medium-low.  Spread butter on one side of each slice of bread.  Place buttered side of two slices of bread on a heated surface.  Place one slice of each cheese on top of each slice.  Top off with remaining bread slices, buttered side up.  Cook, flipping occasionally until cheese is melted and bread is golden brown on each side.  Place on a serving dish alongside tomato soup, chips, and a pickle.