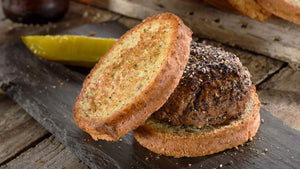 The hamburger is an American classic.  Juicy red meat inside of a seasoned and charred crust might be the best thing that has ever happened to the culinary world.  Here at Jenny Lee, we question why anyone would diminish the integrity of such a legend by using any old bread to bring it all together.  Download the recipe card.
Ingredients
4 Slices of Jenny Lee Parmesan Garlic & Herb Bread

1 Lb. Ground Short Rib, Brisket, and Sirloin Mixture

Dry Rub Seasoning of Your Choice

Toppings of Your Choice
Directions
Form ground beef mixture into two 8 oz. patties and indent center with the thumb.  Season liberally with dry rub.  Wipe grill grates with a vegetable oil-soaked paper towel and turn burners to medium-high.  Just as the grates start to smoke, place patties.  Juices will collect in the indent.  Resist the urge to move them!  Grill for 2 1/2 minutes and flip.  Cook until internal temperature reaches 135 degrees Fahrenheit.  Place bread on the upper grill rack and lightly toast.  Remove burgers and let rest for 4-5 minutes.  Place on toasted bread and dress with toppings.