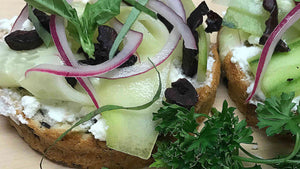 This medley of veggies is just what you need on a hot summer day, and when you put them on top of Jenny Lee Italian Olive Focaccia bread, you'll be able to take on any heatwave nature throws at you.  The only other thing you need is a glass of ice water and you'll swear you were on the Greek coastline.
Ingredients
1 loaf of Jenny Lee Italian Olive Focaccia

8 Ounces Feta Cheese Crumbles

2 Tablespoons Heavy Cream

1/2 Cup Pitted Olives

1 Medium Cucumber, Seeded and Thinly Sliced

1 Small Red Onion, Thinly Sliced or Chopped

2 Tablespoons Granulated Sugar

1 Teaspoon Kosher Salt

1/4 Cup Apple-Cider Vinegar

4 Tablespoons Olive Oil, Divided

1 Tablespoon Chopped Fresh Basil
  Directions 
Preheat oven to 300 degrees Fahrenheit.  Combine feta and cream in the food processor for about 20 seconds. 
Bake olives for about 30 minutes until slightly crispy.  Cool completely and roughly chop. 
Toss cucumber, onion, sugar, and salt in a medium bowl.  Add vinegar and let stand 20 minutes. 
Increase oven temperature to 450 degrees.  Rub Olive Focaccia slices with 2 tablespoons oil.  Bake about 3-4 minutes until focaccia is lightly toasted. 
Spread feta mixture on focaccia slices.  Place cucumber mixture on each slice.  Top evenly with olives.  Drizzle with remaining oil and sprinkle with basil.