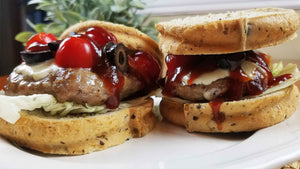 This is the perfect Italian burger to quench your travel thirst. We take the casing off Italian sausages and form them into patties so they fit on our delicious bread. We grill the patties and top them with sliced olives, grape tomatoes, and sweet BBQ sauce. It's like no other sandwich you've had before. 

Ingredients
10 Slices Jenny Lee Italian Olive Focaccia Bread

5 Links of Italian Sausage

Sliced Grape Tomatoes

Sliced Olives

Lettuce

Fresh Mozzarella Cheese

BBQ Sauce
Serves 5
Directions
 Heat grill to medium-high.  Cut casing from each sausage and form into patties.  1 Link = 1 Patty.
 Grill pork, flipping occasionally until heated through to 160°F, adding thin slices of fresh mozzarella for the last 2-3 minutes.
After the pork is finished, assemble sandwiches with lettuce, tomatoes, olives, and drizzle BBQ Sauce.
Serve with red wine.