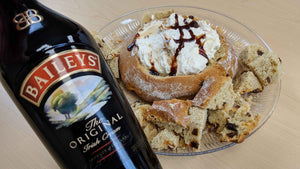 It's going to be a happy St. Patrick's Day this year!  We've just launched our new Jenny O'Lee Irish Soda Bread and created this amazing bread bowl creation with it.
It's sure to be a hit at your St. Patrick's Day Party this year!
Ingredients
2 Loaves of Jenny O'Lee Irish Soda Bread

1 Cup Cold Heavy Cream

8 Oz Cream Cheese

1 Cup Powdered Sugar

1 tsp Vanilla Extract

1/4 cup Bailey's Irish Cream

Chocolate Syrup
Serves 12
Directions
 Whip heavy cream until stiff peaks form.  Set aside.
 Place cream cheese into a medium bowl.  Using a mixer on medium speed, slowly add in powdered sugar, vanilla, and Bailey's Irish Cream and mix until creamy.

Lightly fold whipped cream into the cream cheese mixture until incorporated.
Chill dip for an hour to overnight in the refrigerator.
Cut Jenny O'Lee Irish Soda Bread into a bread bowl, fill with dip, drizzle with chocolate syrup and enjoy!