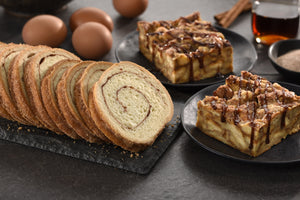 FEATURED PRODUCTS
---
Welcome to the online Jenny Lee Bakery. The only place where you can get each and every flavor of delicious all-natural bread we bake.
Checkout our reviews and learn why Jenny Lee Swirl Bread has become everyone's favorite!
THE STARS DON'T LIE.

4.9/5 from 140+ ratings
Each shipment is packed with care and is guaranteed to arrive in great condition. If not, we'll do whatever we can to make it right. We ship via UPS SurePost and most packages arrive in 3-4 days.
SHELF LIFE
We recommend freezing our bread for up to six months. Pop it in the toaster straight from the freezer and it'll taste like it just came out of our ovens. We promise. It will also last for 8-10 days on your counter or bread box after you receive it.
❮
❯
ABOUT US
Jenny Lee Swirl Bread is considered by our fans to be the best cinnamon swirl bread in the world.
And for good reason. We start by only sourcing sustainable ingredients, including cage-free eggs, and all of our swirl breads are non-GMO. We think that people should feel good about what's in their food.
Welcome to your new obsession
Meet our lineup of gourmet breads.
Because we care about our customers,
we care about our ingredients.
Cage-Free Eggs
California Raisins
Wheat Flour
Korintje Cinnamon